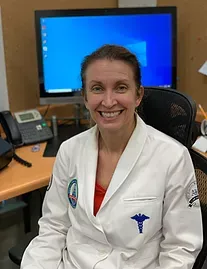 DAWN POLLY, MD
Dr. Polly attended medical school at the Medical College of Ohio, and completed her residency at the Jacobi Medical Center in Bronx, NY. After working in the pediatric ER for multiple years, she decided to change settings and arrived at Express Pediatric Care. She is certified as a fellow of the American Board of Pediatrics.
She lives with her husband and son in Simpsonville, and loves running and traveling.
---
EUGENE GOLDING, MD
Dr. Eugene Golding is a Greenville native and a lifelong resident of the Upstate. He was educated at Furman University, MUSC, the Bowman Gray School of Medicine of Wake Forest University and the Arnold School of Public Health in the University of South Carolina. He completed his Pediatric Residency training at Johns Hopkins Children's Medical Center and the Greenville Hospital System. He is a passionate advocate for children and has practiced Pediatric Medicine since 1992.
He is the father of two wonderful daughters and four exceptional grandchildren and he is blessed with a beautiful family and great friends.
---
SANDRA OLSON, CPNP
Sandra Olson received her undergraduate degree in Nursing from Texas Christian University in Fort Worth, Texas. After several years working in Pediatrics she obtained her Masters' degree at UCLA in Los Angeles, California and became a Pediatric Nurse Practitioner. She has taken care of children in the office setting as a Pediatric Nurse Practitioner in Los Angeles, Cleveland and Upstate South Carolina since 1991. She is excited to join the team at Express Pediatric Care.
Ms. Olson enjoys music and lives in Greenville, SC with her family and multi-poo fur baby.